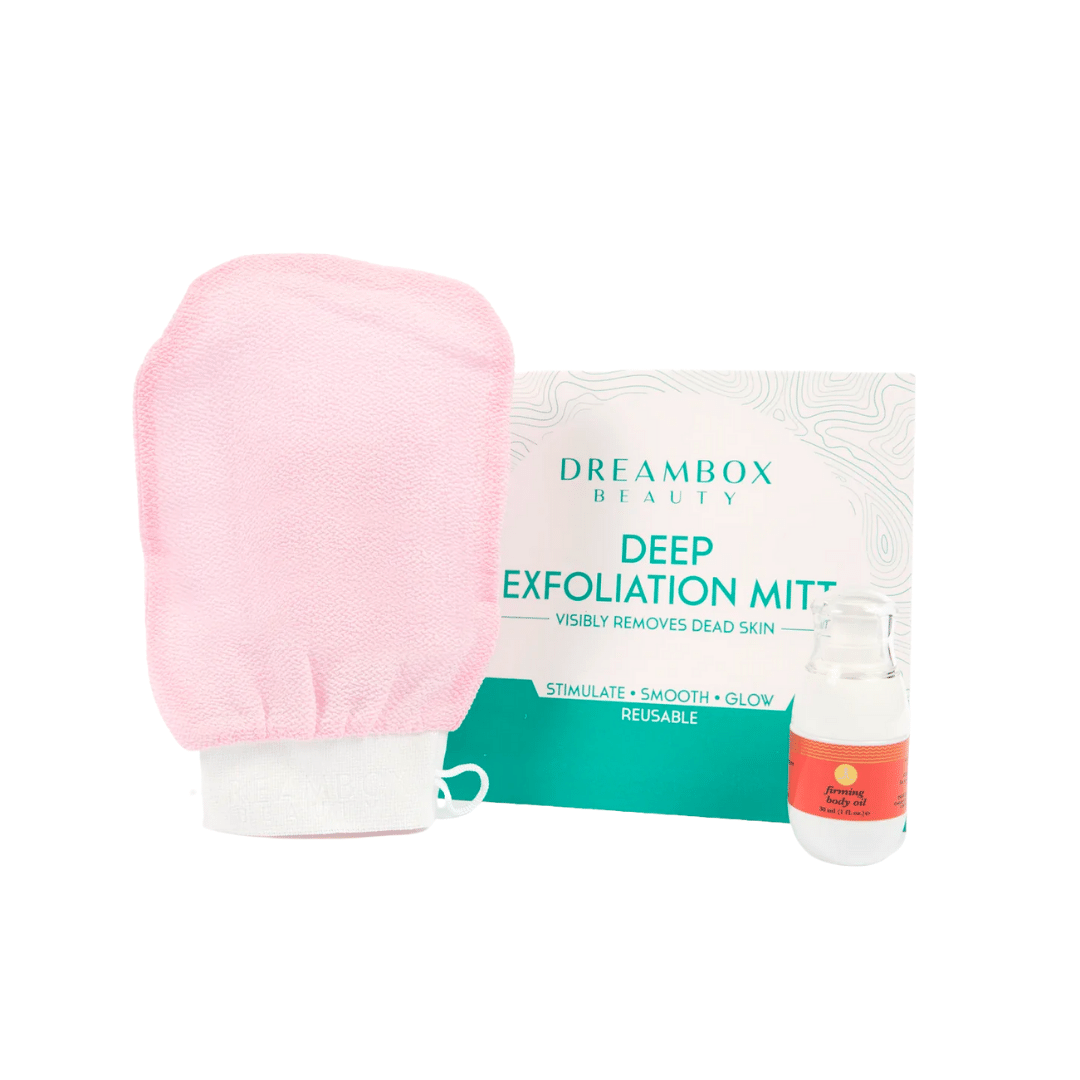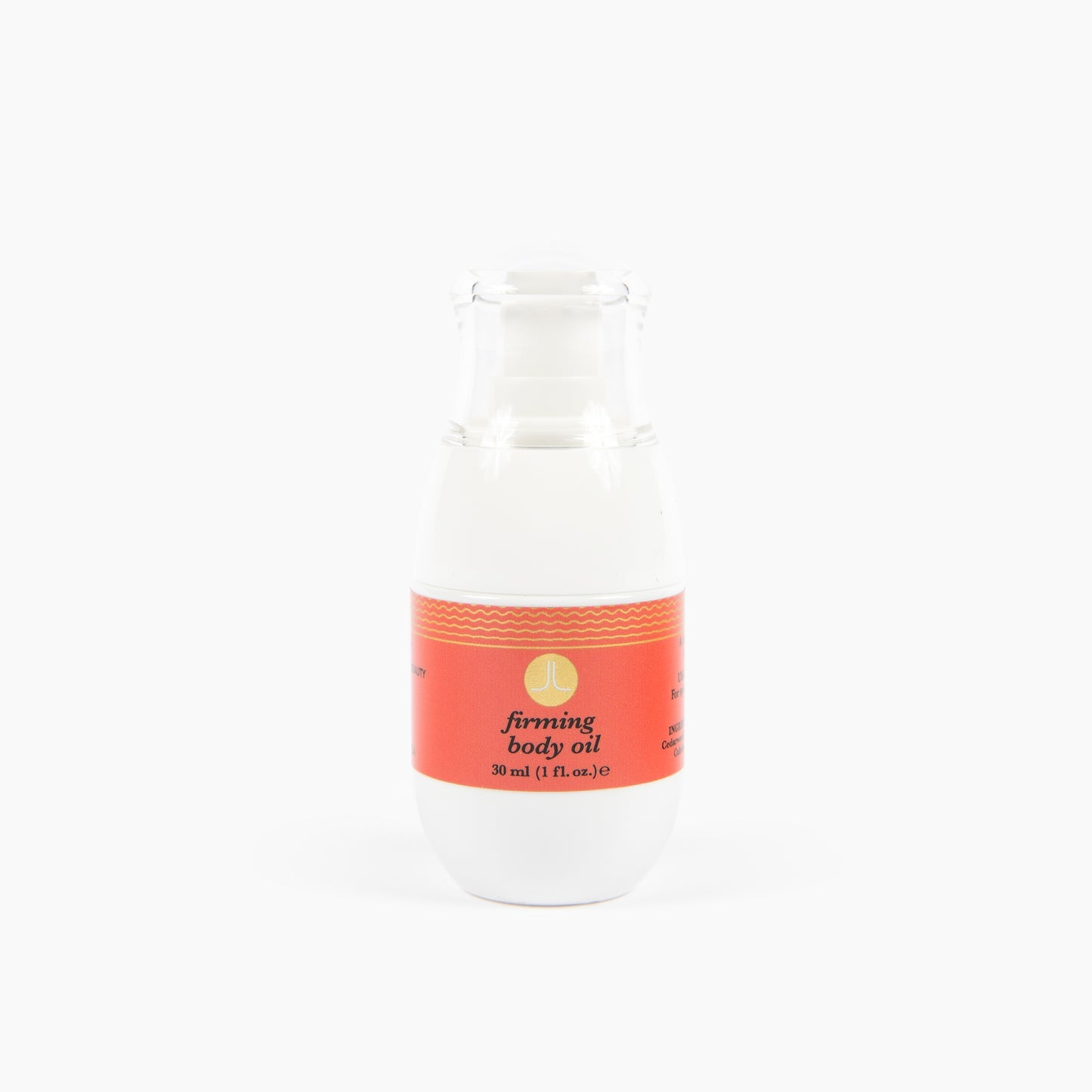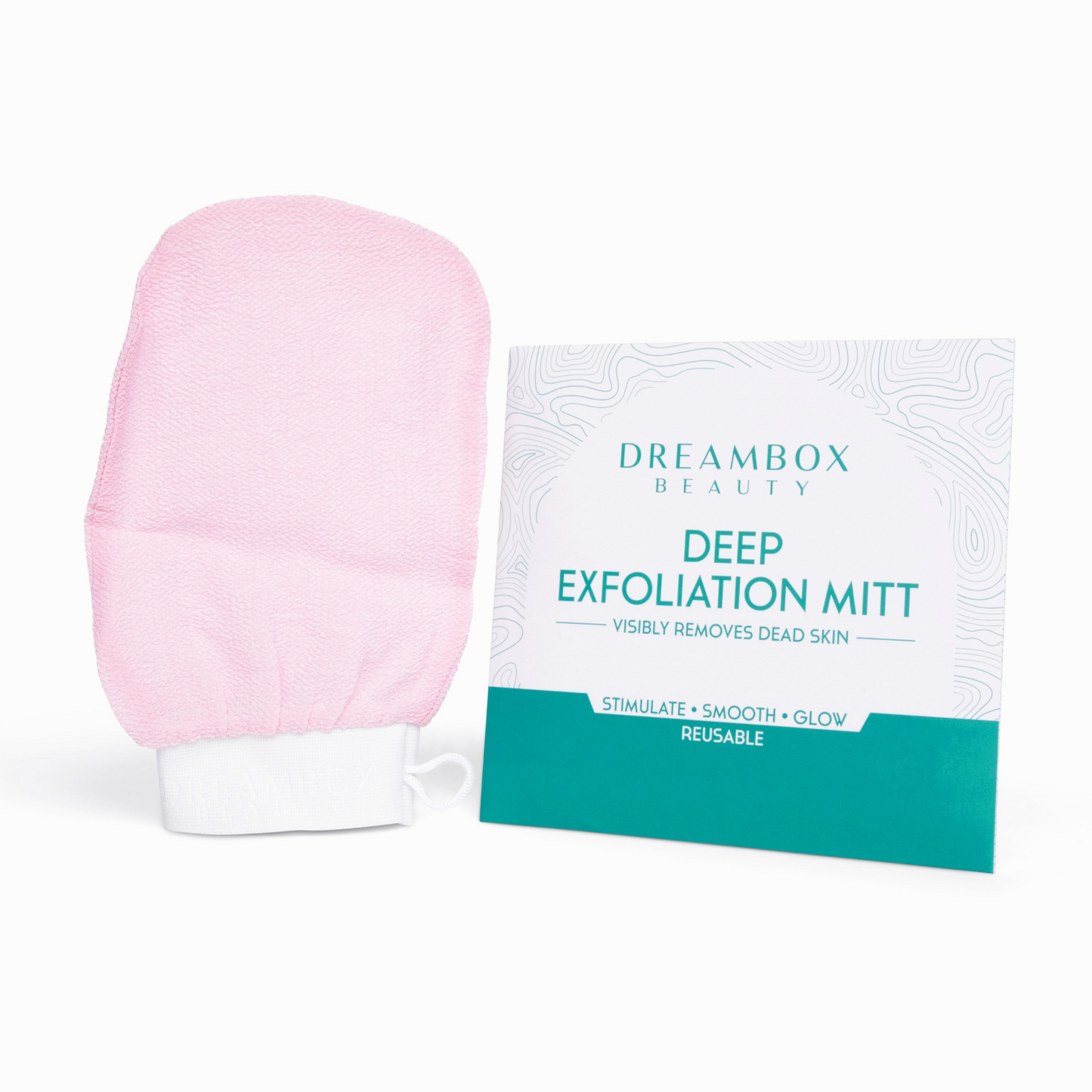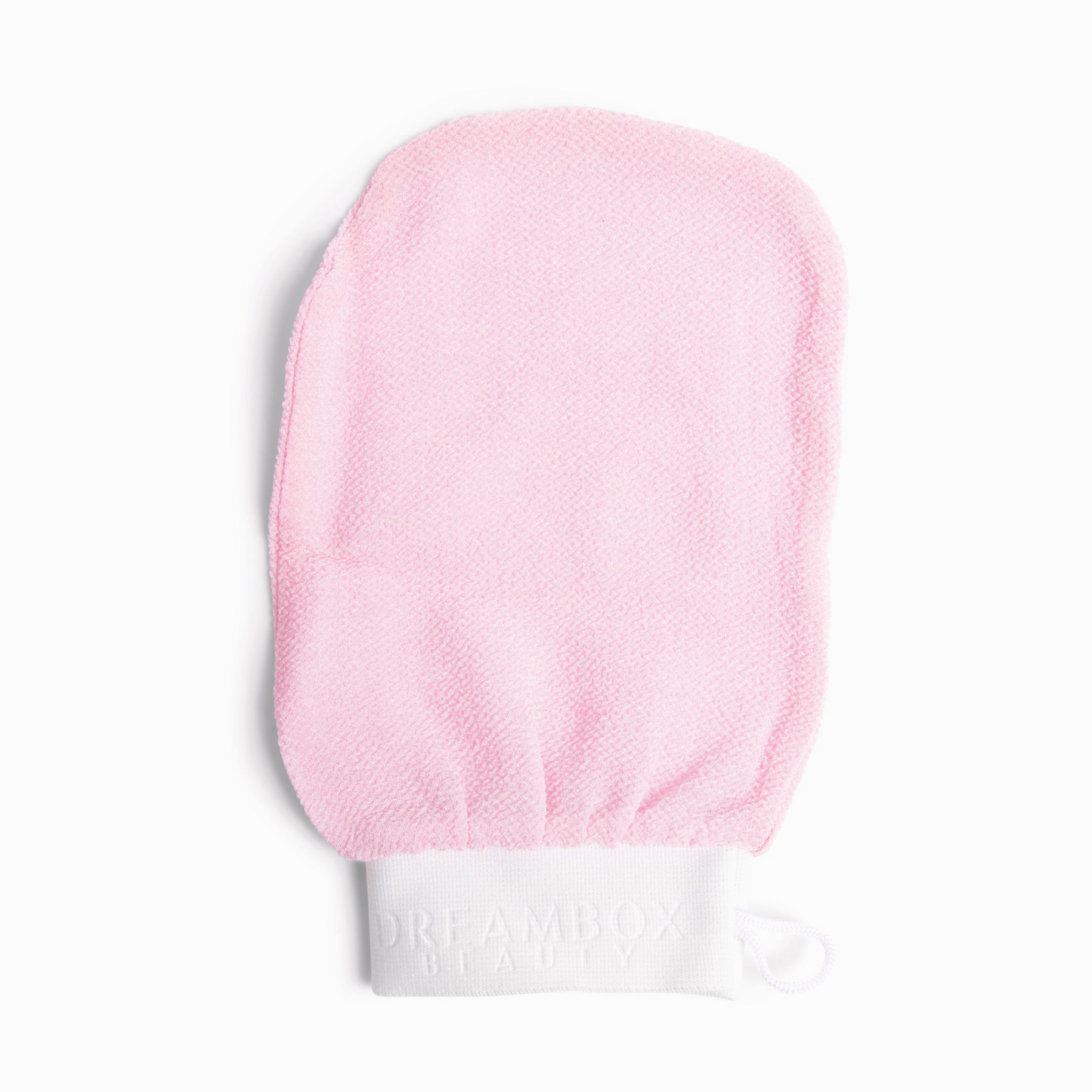 Glow Up Body Essentials | Dreambox Beauty
---
Glow Up Body Essentials | Dreambox Beauty
Deep Exfoliating Mitt visibly removes dead skin + Julie Lindh Firming Body Oil
hydrate and glow from top-to-toe
Give yourself an in-home body treatment with this luxurious toe-to-top ritual. Our Body Rejuvenation Set is made to buff, polish and moisturize with smoothing exfoliation and quenching hydration to keep your skin glowing.
Step 1: Exfoliate
Step 2: Firm
Step 3: GLOW
Firming Body Oil:
Smooths - Tones - Targets Cellulite + Keratosis Pilaris
A stimulating body oil to help rejuvenate and improve skin texture for smoother and firmer skin.  Aromatic and invigorating, this Firming Body Oil promotes the appearance of youthful elasticity. This luxurious oil also helps to reduce the appearance of cellulite, stretch marks and leaves skin hydrated, soft and silky-smooth.
Containing a blend of 11 active botanical extracts, enzymes and oils, the Firming Body Oil is suitable for all skin types.  Juniper Berry and black pepper extracts aim to sculpt the body, Geranium helps to support the skin's natural collagen. Grapefruit works to smooth the skin, Cedarwood helps to tighten and fir needle relaxes muscle tension. 

Key Benefits
Tones skin and hydrates deeply
Helps the skin feel tighter and more sculpted
Key ingredients include grapefruit and black pepper extracts
Suitable for all skin types

Active Ingredients
Firming Body Oil contains essential oils and vitamins to help firm and hydrate the skin:
Juniper: Tones, reduces water retention, and promotes regeneration
Grapefruit: Gives the skin a more smooth appearance, eases puffiness, boosts mood and energy
Essential Oils of sage, lemon, fir needle and geranium balance and soothe.
Black Pepper: A warming effect for increasing blood circulation
Camellia Seed Oil: A natural source of Antioxidant and vitamins to help repair skin damage and moisturize 

Usage
Apply on body after a shower or bath to your body and massage well using circular motions. For spot treatment, do a dry brushing or exfoliation before the oil.

Ingredients
Rice Bran Oil, Camellia Seed Oil, Grapefruit, Cedarwood, Sage, Juniper Berry, Fennel Sweet, Black Pepper, Litsea Cubeba, Lemon, Geranium, and Fir Needle Essential Oils.
Deep Exfoliating Mitt:
Stimulate • Smooth • Glow
The plant based Dreambox Beauty DEEP Exfoliation Mitt handmade using an ancient weaving design that allows for a gentle yet deep exfoliation. The unique fabric and weaving technique allow for the glove to remain soft yet durable, while visibly removing dead skin and surface impurities.

All you need is hot water and your Dreambox DEEP Exfoliating Mitt and you are on your way to soft, velvety, glowing skin.

Tips

Avoid using your glove on any open wounds, sunburned, or inflamed skin.

Gently use around sensitive areas. 

Skin must be clean of any soaps, salts, or bubbles prior to use.

It is recommended to replace your glove every 8 to 10 weeks.

Skin peeling depends on your skin type. Your skin may also not peel if you are using

 

an additional daily exfoliator, or if your skin is too damp or hairy.

Visible skin peeling results are not guaranteed. Rest assured that your skin will be

 exfoliated regardless if visible skin peeling occurs!
Benefits

Exfoliated the skin naturally, improving the skin's texture and complexion.
Helps to reduce acne, ingrown hairs, stretch marks, and scarring.
Improves circulation and lymphatic drainage; leaving body energized.
Promotes collagen and elastin production by accelerating new skin cell creation.
Naturally removes fake tans, spray tans and self-tanning products while providing a smooth base for even future tanning.
Helps to absorb skin care products more effectively.
Directions

Step 1:
Take a warm bath or shower for at least ten - fifteen minutes to soften the skin.  
Avoid using any soaps, shower gels, or similar products as the glove relies on direct friction with the skin.
Step 2:
Wet your glove and wring the glove out. 
Move yourself out of the water.  Avoid drying yourself off and make sure that your skin remains moist.
Begin to rub the glove up and down your body using long and firm strokes. 
Be extra gentle on your sensitive areas. You may notice your skin start to peel after a few minutes. If this happens, avoid rinsing the peeling skin off your body as these skin particles will aid in further exfoliation.
Step 3:
Once you have achieved your desired level of exfoliation, rinse your body with water to wash away the skin particles.
 Dry yourself off and apply your favorite body oil or moisturizer.
Step 4:
Hand wash your glove using natural soap and hang your glove to air dry.
Repeat your exfoliating ritual once a week.
MSRP: $39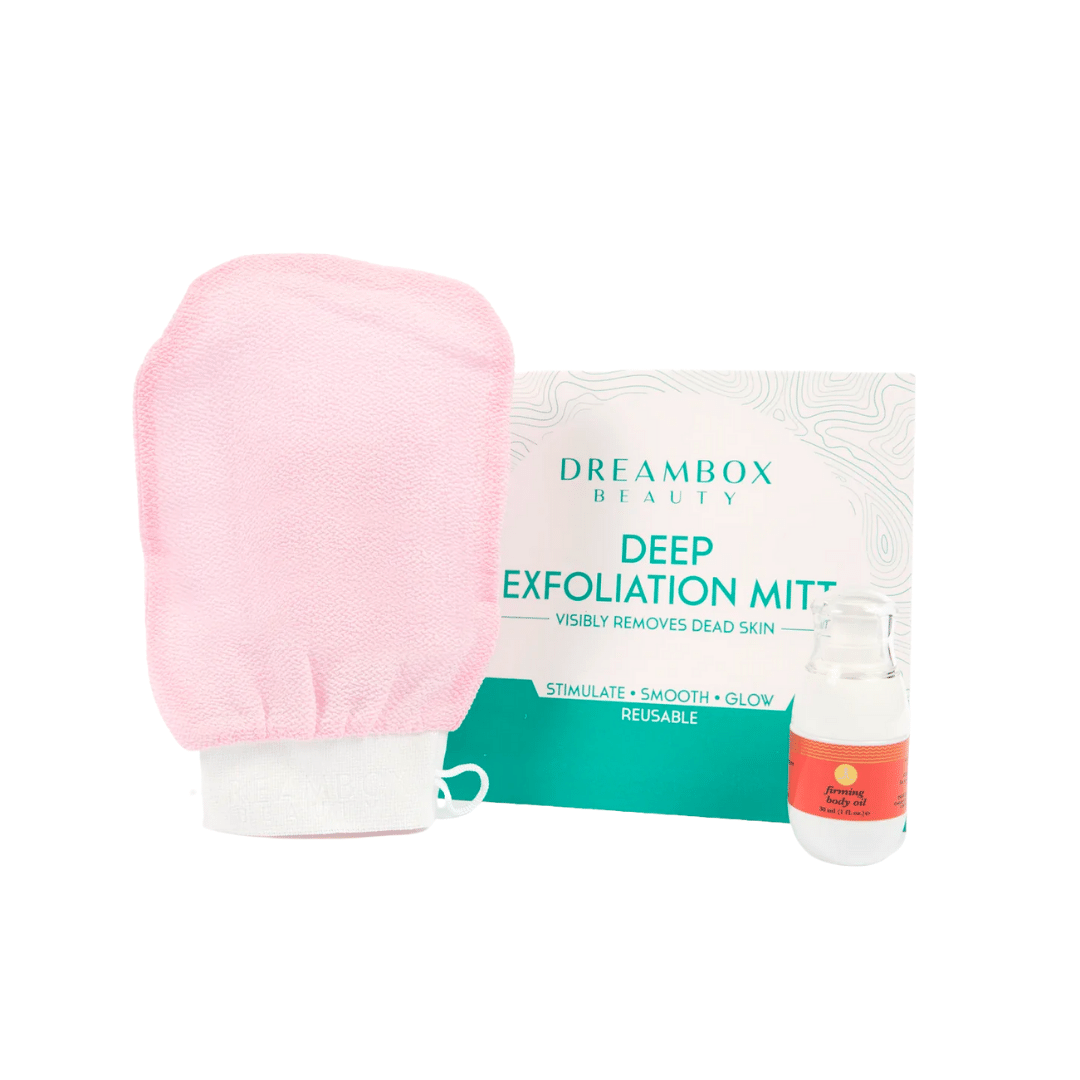 This product has no reviews yet.