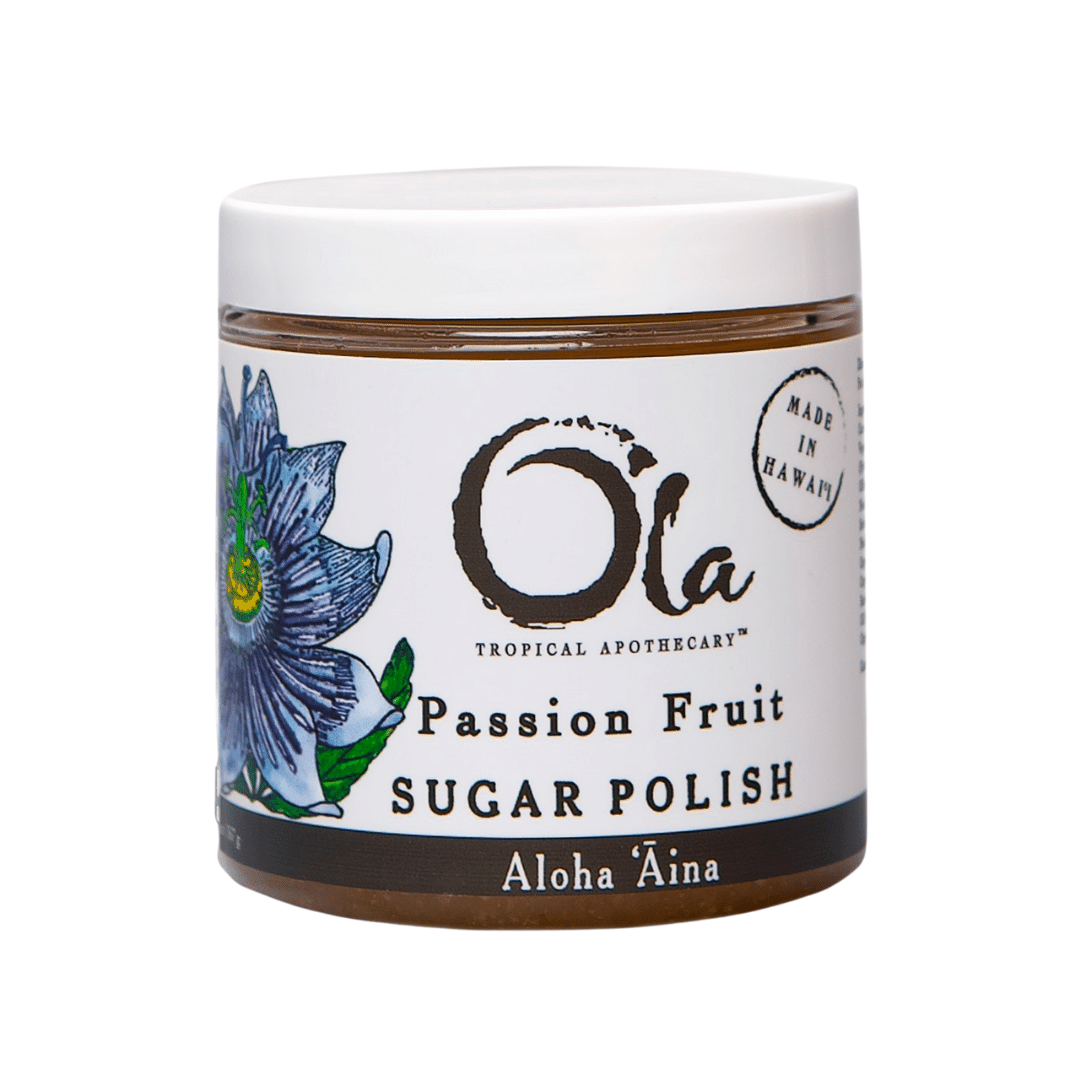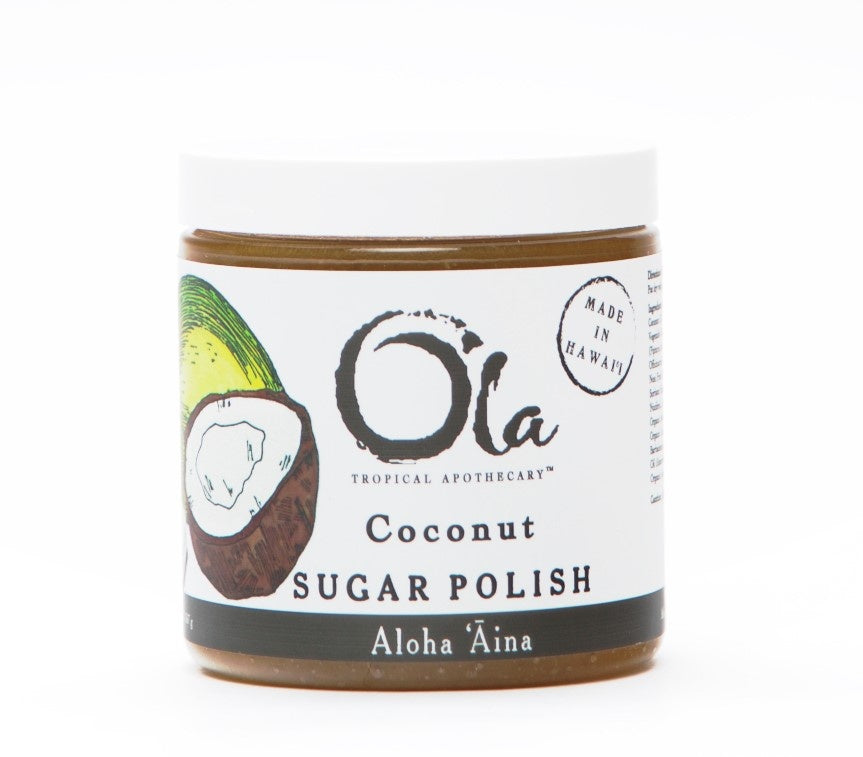 Sugar Body Polish For Radiant Skin | Ola Tropical Apothecary
---
Sugar Body Polish For Radiant Skin | Ola Tropical Apothecary - 11.6 oz/ 325 gms
Ola Tropical Apothecary's Sugar Body Polish is a gentle, natural exfoliating product combining Raw Cane Sugar with Hawaiian Honey, Hawaiian plant extracts and tropical oils that cleanse, renew and condition the skin.

HOW TO USE: This is a "one stop shop"product to enjoy once a week instead of wash or soap to make your skin radiant! Sugar has been proven to lighten and brighten skin, and it is ideal for hands and feet, décolleté and shoulders, elbows, and knees. It can even be used gently on the face.

KEY INGREDIENTS:
• RAW SUGAR: High in Alpha Hydroxy acids that repair damaged and aging skin, and regenerate new skin. The granules help to exfoliate and cleanse the skin, and in addition it can be one of the most effective ingredients when you are trying to lighten your skin.
• HONEY: Anti-bacterial, Anti-microbial, moisturizing and hydrating, conditioning and softening.
• COCONUT OIL: Anti-aging; Provides deep moisturizing and hydrating benefits, strengthens underlying tissue and supports new cell growth, anti-microbial and anti-fungal to keep skin clean and balanced.
• Banana, Mamaki Leaf, Turmeric, Ginger and Taro Root, Sugar Cane, Aloe Vera, Noni Fruit: Anti-inflammatory, High in anti-oxidants, moisturizing, softening and conditioning for the skin.

ALL INGREDIENTS:
Cane Sugar, Raw Sugar, Organic Virgin Coconut Oil , Organic Hawaiian Honey, Organic Vegetable Glycerin, Alcohol extracts of Banana, Mamaki Leaf, Turmeric Root, Sugar Cane, Aloe Vera, Ginger Root, Noni Fruit, Taro Root, and Potassium Sorbate; Expeller Coconut Oil, Fractionated Coconut Oil, Coconut Milk Powder, Natural and Fragrance Blend, Organic Avocado Oil, Macadamia Nut oil, Organic Cocoa Seed Butter, Aloe Vera Butter, Organic Coconut Cream Concentrate, Kukui Nut Oil, Organic Aloe Vera Powder.


**Product Expiration date is 6 months after sell-by date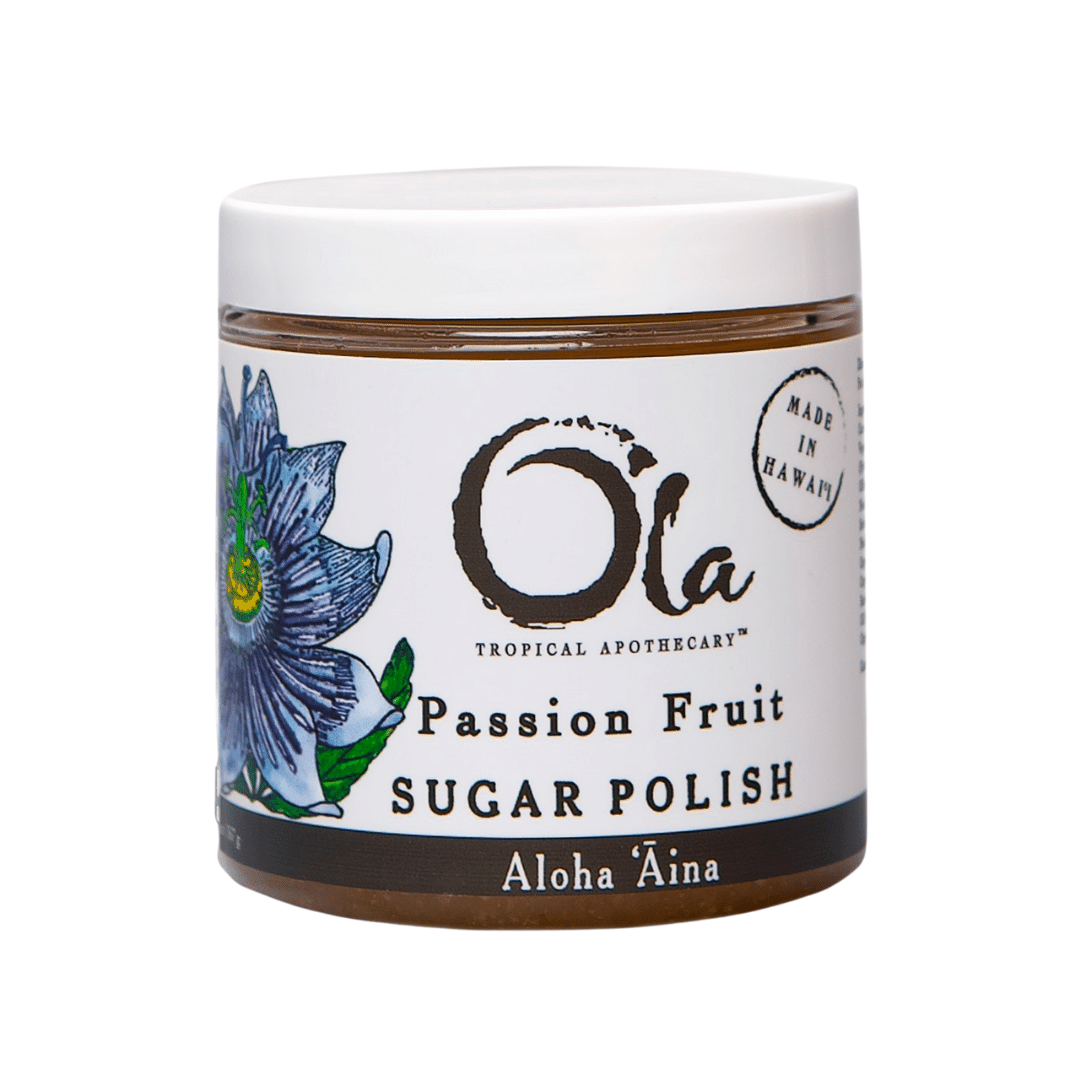 This product has no reviews yet.