Fall is the season of change, gratitude, and well – we think quite possibly the
BEST olfactory celebration of the year when it comes to wellness products.
Think chai, vanilla, cinnamon, cardamom, and of course, the much awaited
PUMPKIN scents that mark the start of the holidays.
Keep reading for our staff's fresh picks for fall!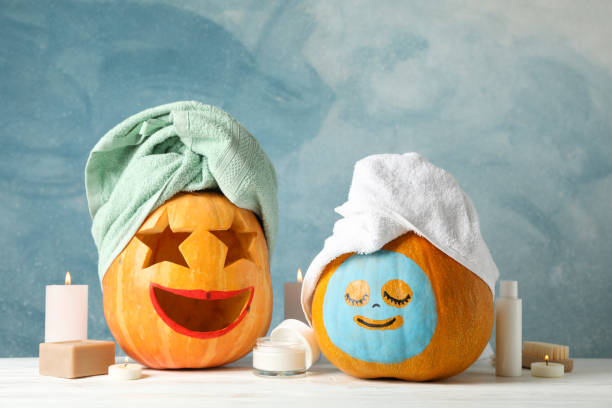 Pumpkin is full of Vitamin A and C to soften the skin and also boosts collagen
production. We think this is a year round must have ingredient but in honor
of the season, here are the pumpkin infused products that stand a scarecrow
or two above the rest.
PUMPKIN SOOTHING FACE MASK | PRIMAL ELEMENTS | $10
What it does: multi-vitamin, clay, and mineral mask to exfoliate, smooth, and
promote collagen production.
*pro tip: This will be good for 2-4 treatments based on how heavily you lay it
on. This is a clay mask so it will feel dry immediately after use. To ensure you
don't get any peeling post treatment, follow up with a thick cream like the
[ comfort zone ] Sacred Nature Hydra Cream.
SPLENDID DIRT | FARMHOUSE FRESH | $33
What it does: pore minimizer and de-gunks white heads and oils in skin.
You'll have a new radiance!
*pro tip: pre-exfoliate with a super mild face polish (like the
One Fine Day
polish
) and warm water. By sluffing off some of the surface oils and dirt, this
mask can work even better to pull out impurities deeper in the skin.
PUMPKIN + CINNAMON CANDLE | ROAM HOMEGROWN | $28
What it does: 50 hrs of burntime to make any space smell like a homemade
pumpkin chai tea latte!
*pro tip: In the morning, light this candle, have a cup of chai tea, and give
yourself a small goal like doing a workout or drinking water. Once you've
completed your task, blow the candle out!
FALL BRINGS A CHANGE... OF STYLE

:
What it does: Keeps you comphy & warm while simultaneously remind you
and anyone around you what time it is... it's time to relax, duh!
*pro-tip: wear this to your next spa experience and allow the compliments to
roll in.
PERFECT LOUNGE JUMPSUIT | SPIRITUAL GANGSTER | $118
What it does: No time, thought, or energy and voila – you have a super cute
fit. Is it more formal than pjs but def feels like pjs so even though you are
soooo comphy you can still hit the grocery store? Oh ya.
*pro tip: To level this up to a full brunch ready outfit, pair with a mala
necklace, head scarf, and neutral wedges.