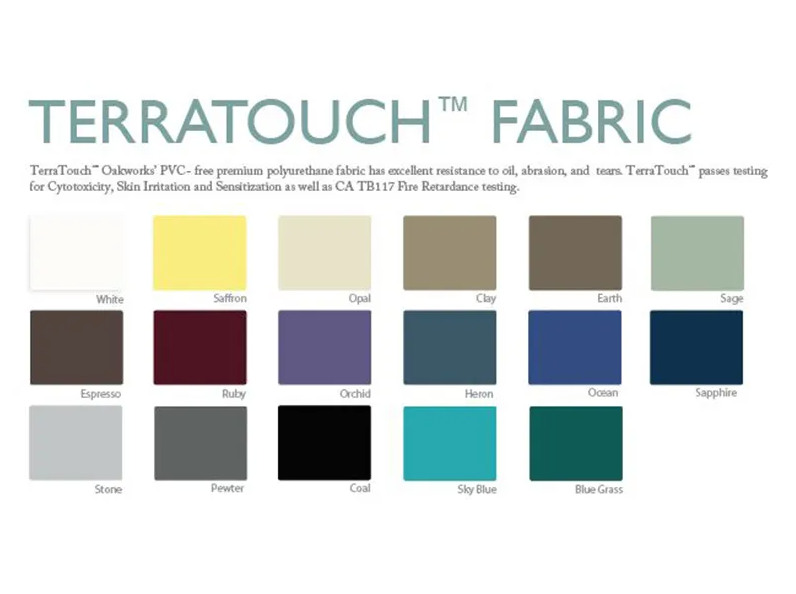 ONE Table Package - Opal | Oakworks
---
ONE Table Package - Opal | Oakworks
Color: Opal
The One by OAKWORKS® portable massage table is built to meet the needs of a budget-conscious massage therapist looking for an inexpensive portable massage table without compromising on product quality. The One massage table is a great first table for students, or professionals on a tight budget. This table is built with many of the same features and patented details as our other professional massage tables. This table is also a popular solution for the massage client looking to add a portable massage table to their home spa or gym. And don't let the price fool you, this isn't some cheap massage table import. The One table is built right here in the USA from the highest quality globally sourced materials. The One table package features include Earth friendly TerraTouch™ fabric, Face Rest outlets on both ends of the table, the patented UniLock™ Closure System and 3" multi-layer, high-quality padding. This package includes an adjustable face rest platform with Aero-cel™facerest crescent, an Essential carry case, and an arm hammock. The One table measures 73in. long by 30in. wide and is adjustable from 24in. to 34in. high. Included in this complete package are also a free access end panel and free shiatsu cables. The One table is a great value! One... great table. One... phenomenal package. One... incredible value.
The One portable massage table details:
CableLock System - Our system uses stronger cables than anyone else, designed not to stretch or fail even under the heaviest loads.

Support Structure - Engineered Leg extension system-designed to need only one knob instead of two and offer more strength than any other on the market.

Understructure - This IntegraHinge™ design offers incredible strength and light weight that no piano hinge can match. Squeak-free and rigid.

Handles - Reinforced, padded and T-nutted to the frame for added durability.

UniLock™ system - Super quick, easy to use system folds out of the way for shiatsu and won't rip your sheets.
TerraTouch™ Fabric - You'll love the supple feel and longevity of TerraTuch fabric.  This PVC-free 100% Polyurethane faced fabric features a durable cloth backing and through color in the polyurethane face for better longevity.
Adjustable Face Rest Platform - This face rest adjusts in height and angle using a single cam lock. Oakworks platforms have an 8 inch center line measurement that fit in all Oakworks tables.
Aero-cel™ Facerest Crescent - Our full 4" thick Aero-Cel™ pad supports your client comfortably in either a prone or supine position. This versatile pad can be adjusted to fit almost any client's face. Support narrow and broad faces comfortably. Turn it around on your face rest platform to create a great cervical pillow that cradles the neck and head for supine treatments.
Oakworks Arm Hammock - Offer your patients optimal comfort without spending a fortune. The Oakworks Massage Table Arm Hammock is the "must have" accessory. This unique product will comfortably and easily support your client's arms in the prone position. This versatile arm rest will easily attach to any face rest platform, making it the perfect table accessory. The unique design accommodates a wider range of people than competitive products due to its adjustability.
Oakworks Essential Carry Case - The Oakworks Essential Carry Case has a large pocket, shoulder strap, handles, dual-slide zippers, and is most budget friendly. The durable black Polyester will help protect your portable massage table during transport and is designed to fit portable massage tables up to 31" wide. 
Width: 30 in.
Length: 73 in.
Height Range: 24 in. - 34 in.
Foam: 3 in. Multi-Layer
Fabric: TerraTouch 
Weight Capacity: 500 lbs.
Weight: 32 - 34 lbs.
Includes an

 

Adjustable Face Rest Platform

 

with

 

Aero-cel™ Facerest Crescent
Includes

 

Essential Carry Case
Includes an

 

Oakworks Arm Hammock.
This product has no reviews yet.