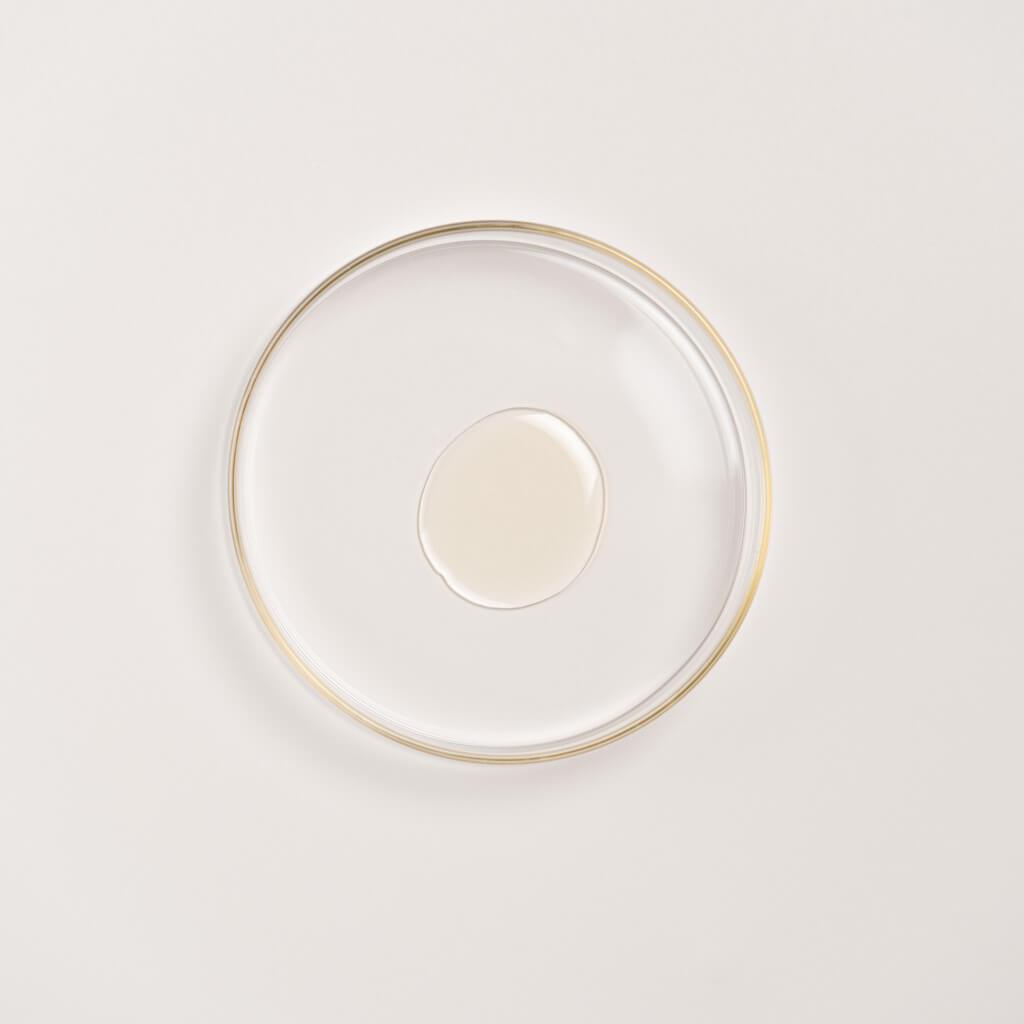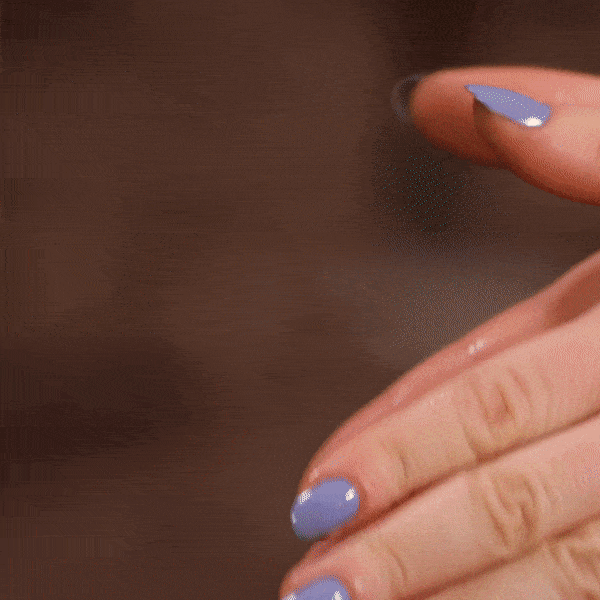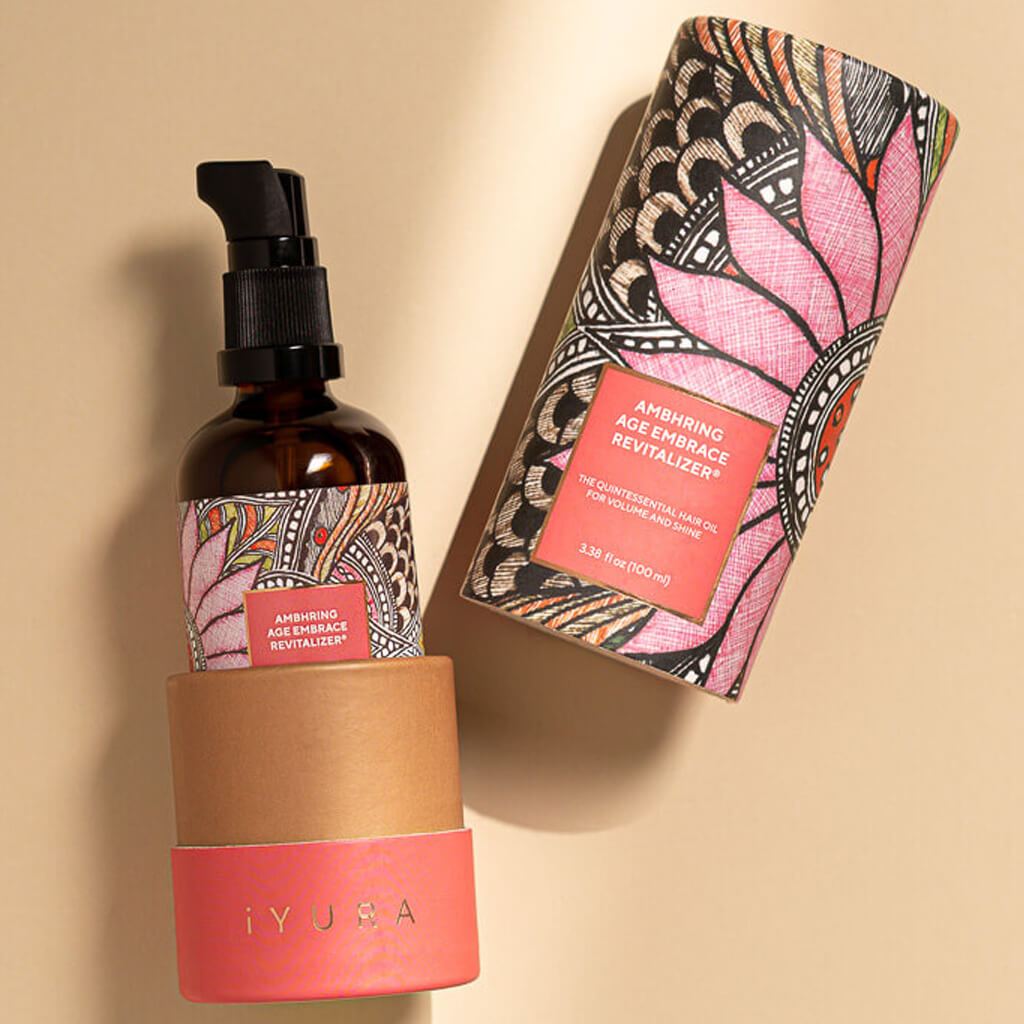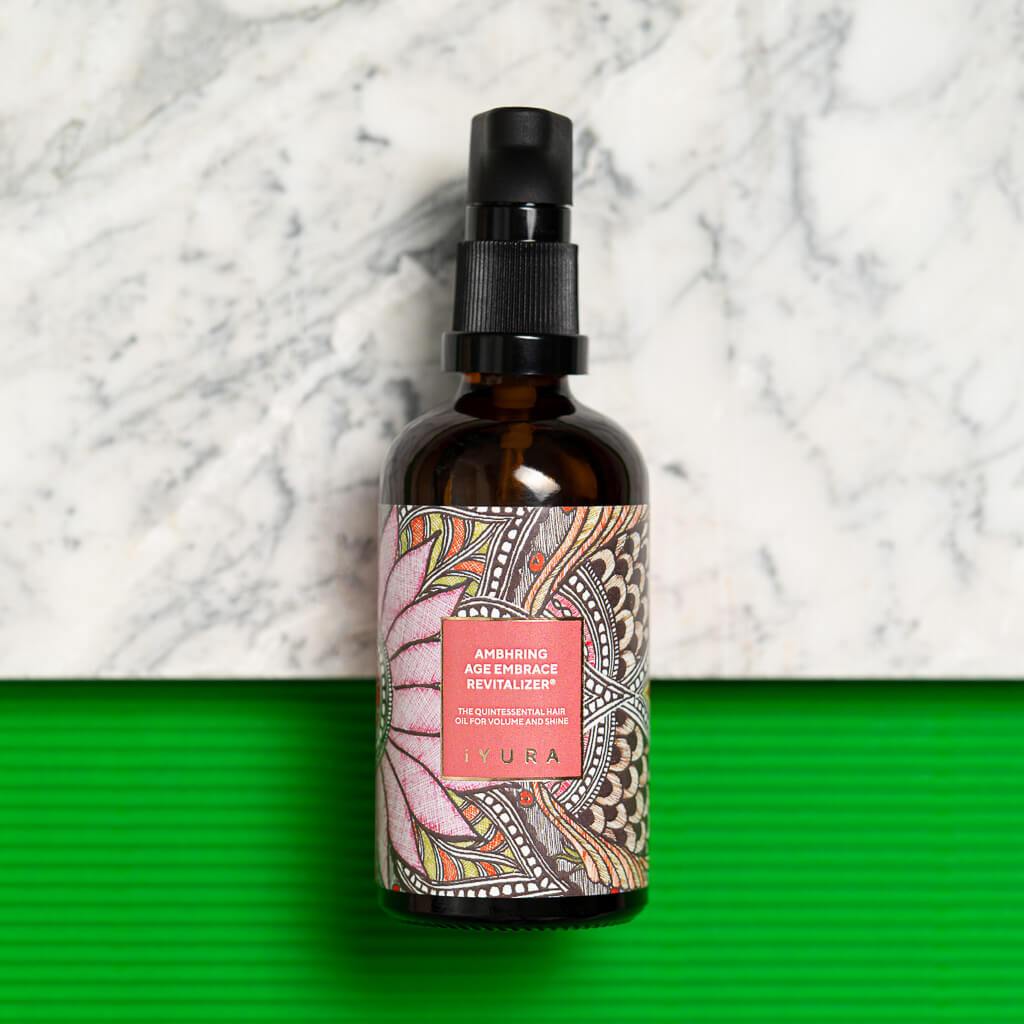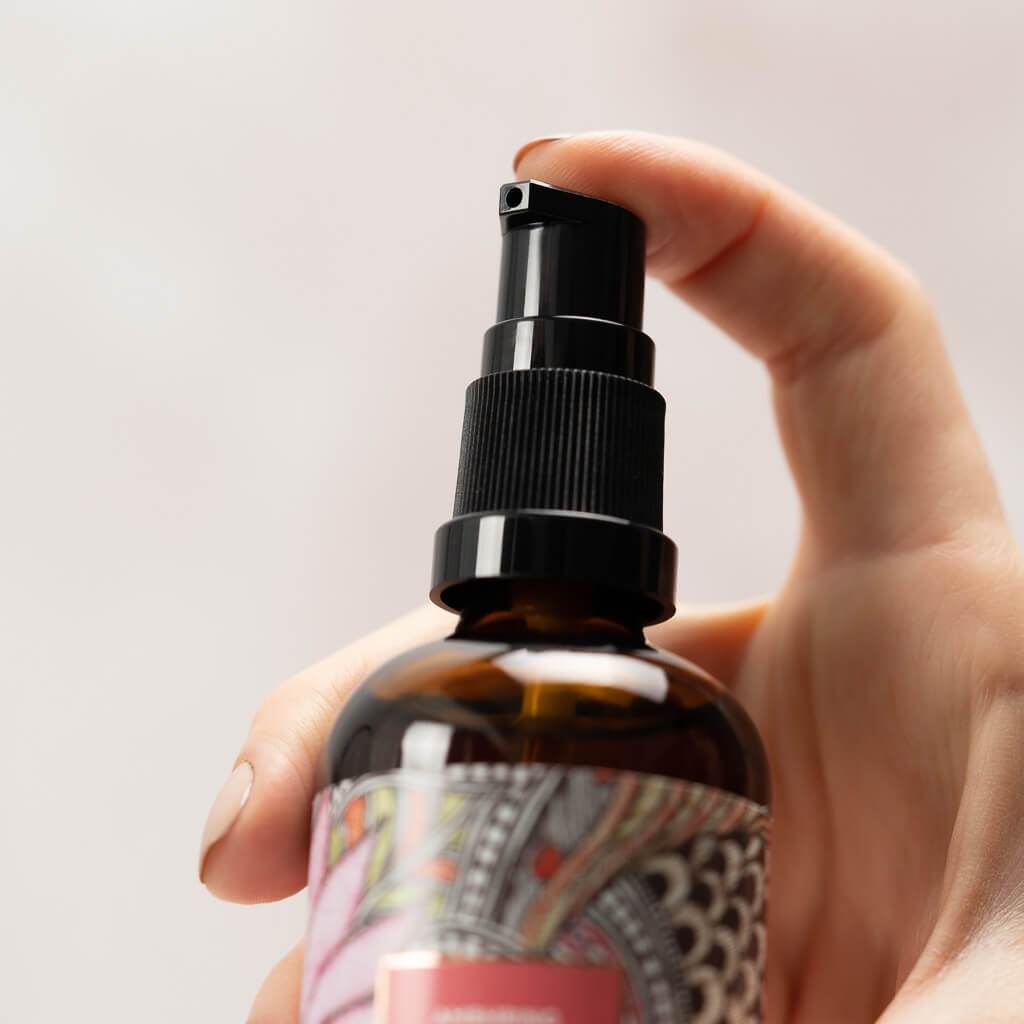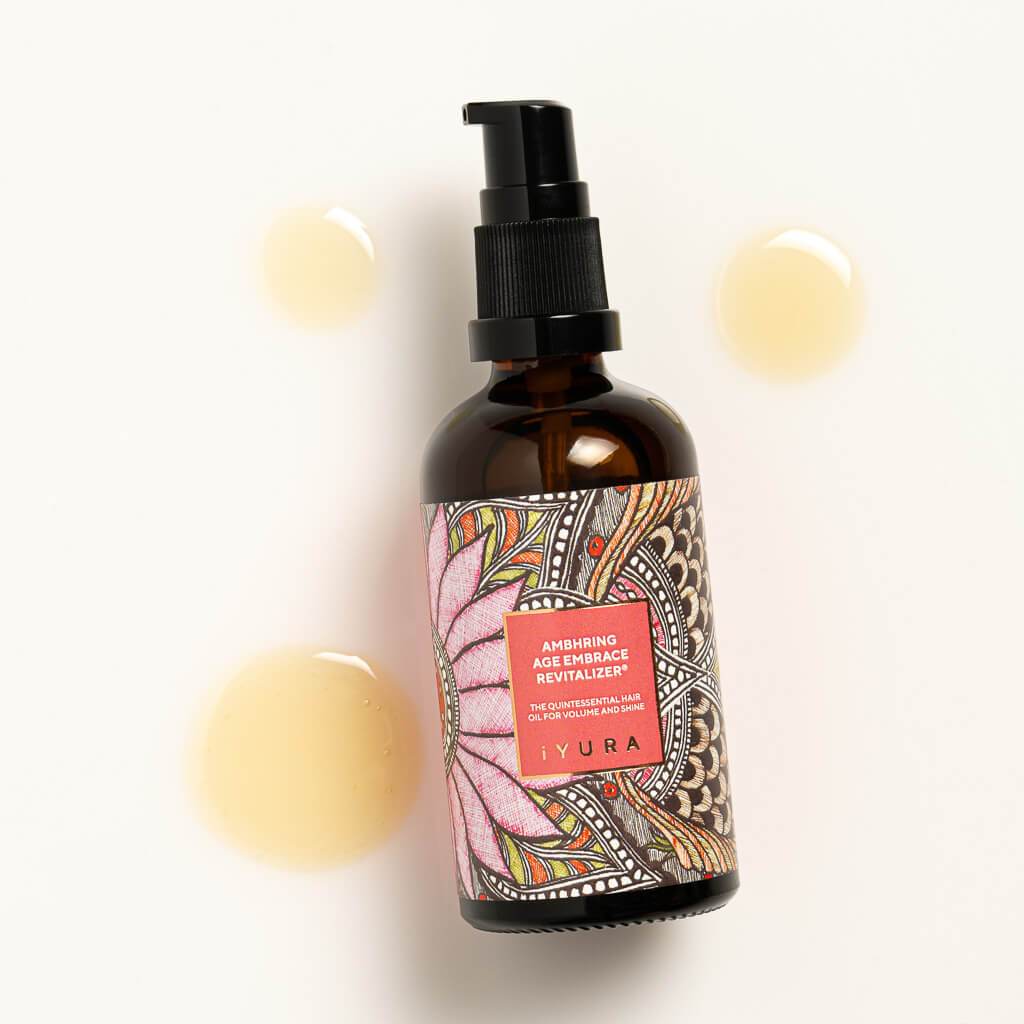 Ambhring Age Embrace Revitalizer | iYURA
Ambhring Age Embrace Revitalizer and Hair Oil
---
For those with limp, lifeless-looking hair. A rejuvenating head massage with Ambhring results in healthful, voluminous, bouncy hair. High-performance, potent hair-elixir with Ayurveda's 2 most powerful hair-herbs. Visible results after the very first wash.
Who should buy Ambhring Age Embrace Revitalizer and Hair Oil
Those with flat-looking, limp, chemically treated/damaged, lifeless hair. 
 
What it is
A hyper-focused, weekly (as oil)/daily (as serum) hair ritual to restore natural hair volume and enhance it with every use. 
 
What it does 
This deeply nourishing, fast absorbing, non-greasy hair oil delivers results after the very first use. It imparts vibrant volume to thinning, limp hair bogged down by chemicals, pollution or dietary indiscretions.  
Formulated with Ayurveda's irreplaceable plant-wisdom, this hair oil delivers a unique blend of phytoconstituents from 2 transformative hair-herbs – Indian False Daisy and Gooseberry to replenish thinning hair to a full-bodied, bouncy, lustrous state.  
Apigenin from False Daisy imparts volume and locks natural moisture of hair. 

Lupeol from Indian Gooseberry makes hair shiny with health

 
Hair Hydration & Moisture
Best used when warm: warm some oil in a bowl in a hot water bath or by placing the bottle in hot water
Cow Milk
Sesame Oil [Sesamum Indicum]
Indian Gooseberry [Emblica Officinalis]
False Daisy [Eclipta Alba]
Licorice [Glycyrrhiza Glabra]
Essential Oil of Mandarin [Citrus Reticulata]
Essential Oil of Peppermint [Mentha arvensis]

NO MINERAL OIL, PARABENS OR CHEMICALS. 100% NATURAL AYURVEDIC PRODUCT. NOT TESTED ON ANIMALS.

For external use only. Test for allergy. Contains cow milk. Do not apply to wounds, cuts or rashes. This product is not meant to treat, heal or cure any disease. Do not shampoo immediately after oiling. Use only gentle, herbal shampoos to maintain the health of your hair. Use within 24 months from date of mfg.

Quantity: 100 ml (3.38 oz)

Why is it unique:

🚫No Gluten
🚫No Preservatives
🚫No Artificial Fragrance
🚫No Sulphates
🚫No Phthalates
🚫No Parabens
🚫No Silicones
🚫No Binders or Additives
🚫No Mineral Oils
🚫No Artificial Colors
This product has no reviews yet.