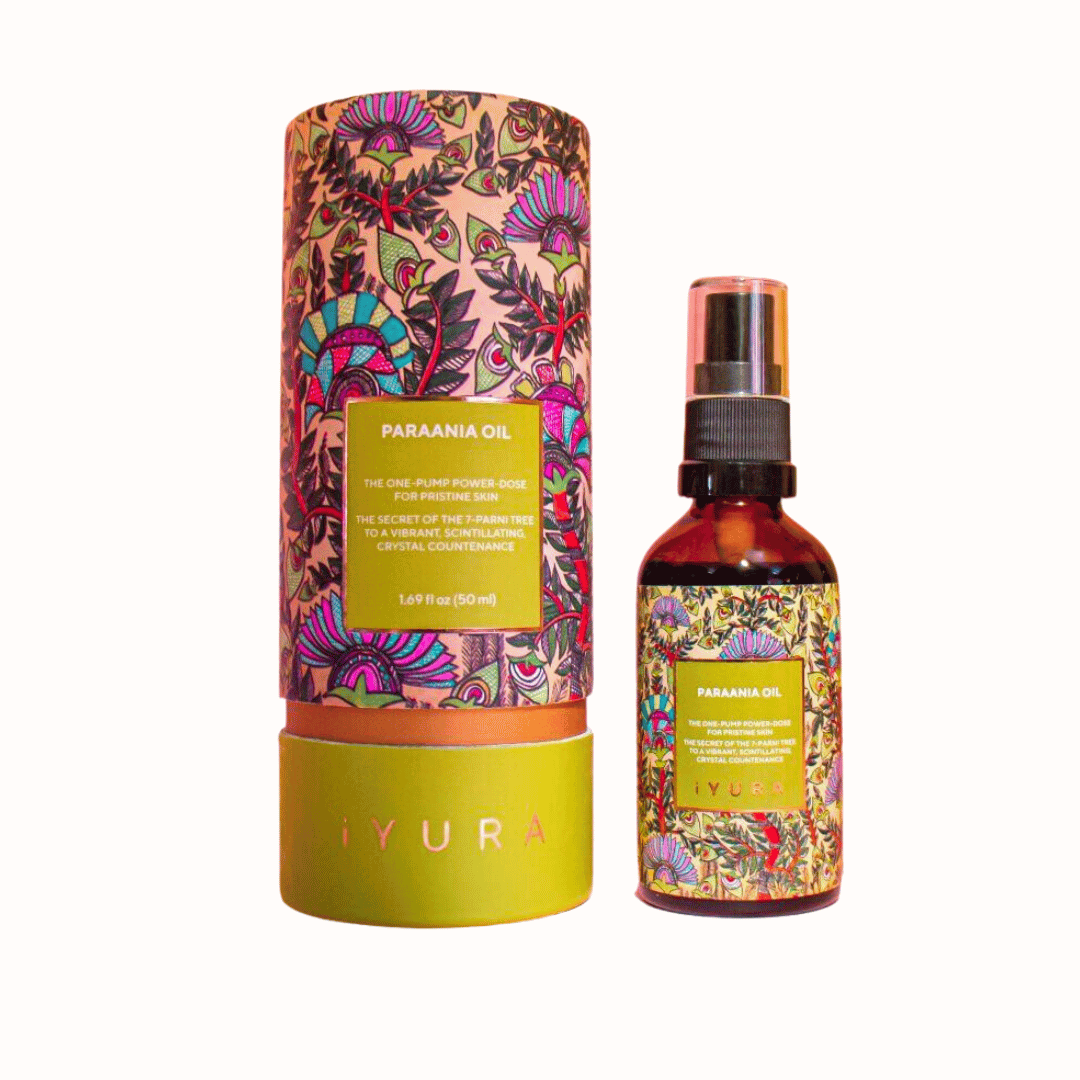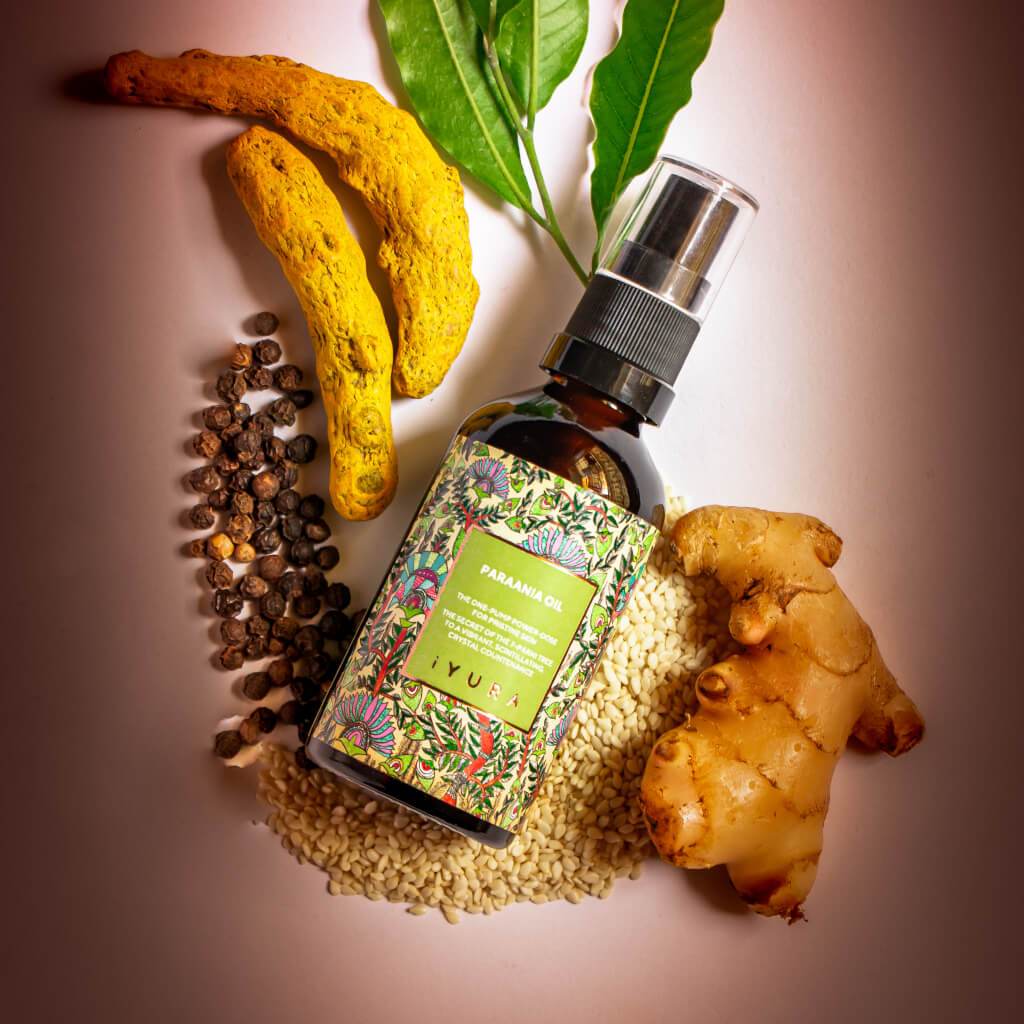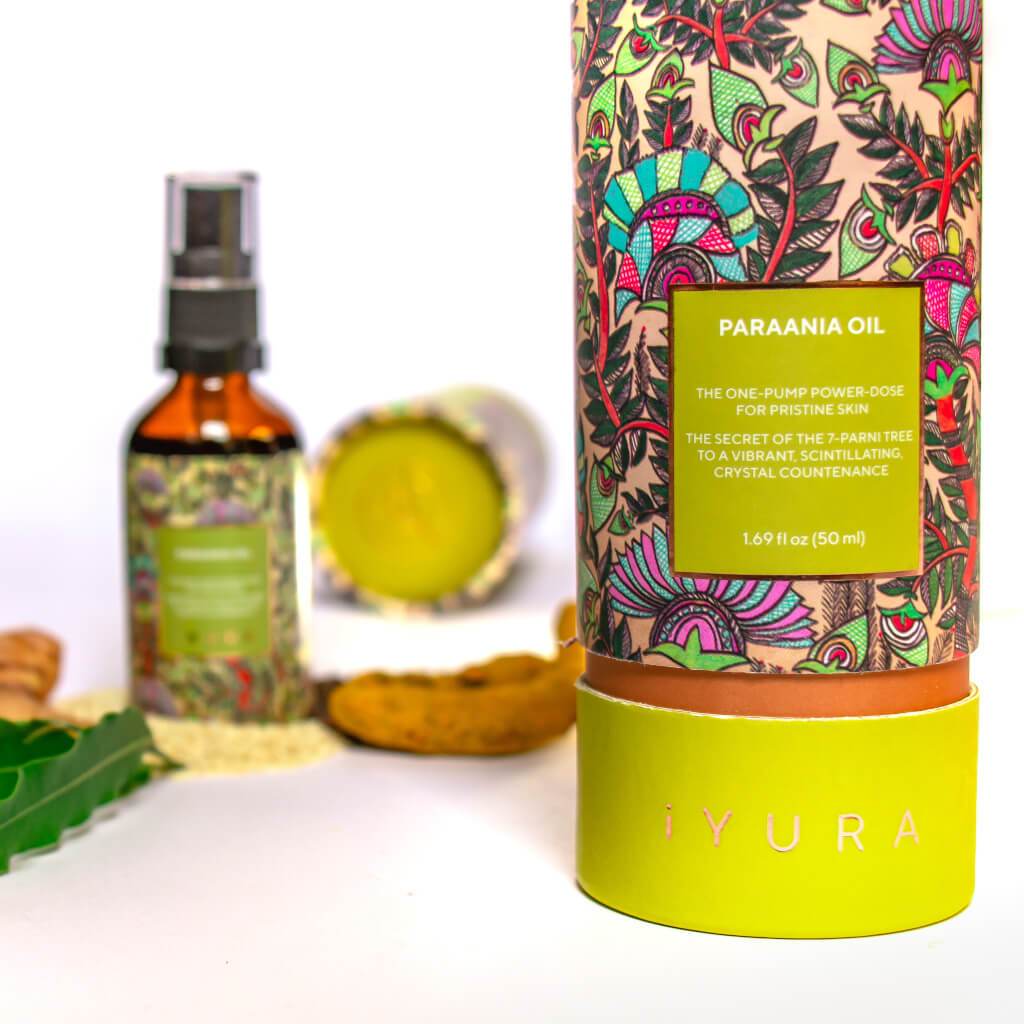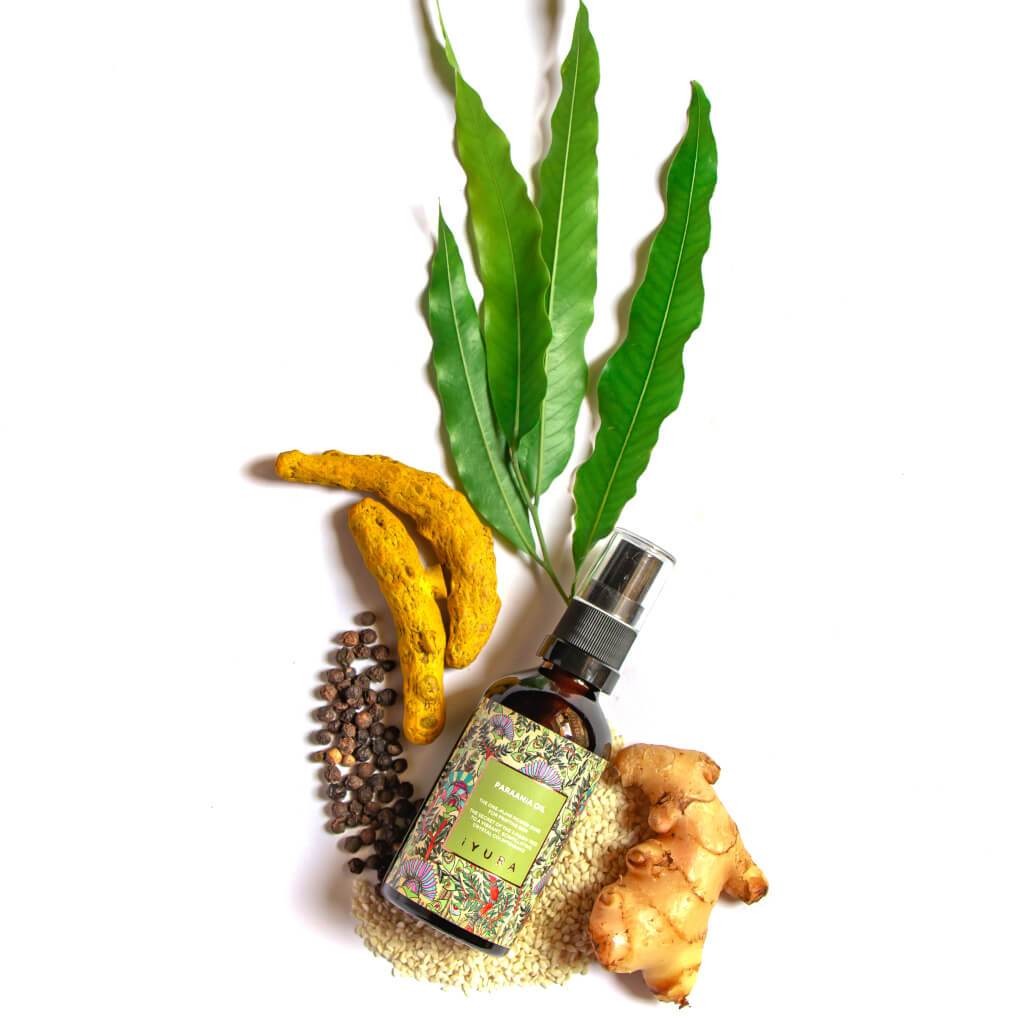 Paraania Oil | iYURA
The One-Pump Power-Dose for Pristine Skin
---
The Secret of the 7-Parni Tree to a Vibrant, Scintillating, Crystal Countenance
For Apparently Spot-Free, De-Clogged, Detoxed, Inside-Out-Pure, Visibly Clearer-Looking Skin: In Just 1 Pump Every Day!
Ayurveda's 1-Pump Daily Solution to reduce the appearance of darker spots (darker than your overall skin-tone) and the look of blemishes to moisturize skin that's often disturbed with acne, blackheads and whiteheads
An intense VEGAN power-potion, Paraania brings a storm of benefits to the skin to give it a clearer, more purified complexion. This power-purifier is your natural go-to to make you forget about skin clarifying and beautifying acid concentrates or peels.

Paraania's pristine power-dose de-clogs pores and gives them the sauna-cleanse without the sweat!
A unique oil for uneven skin tone, dark patches, oily or acne prone skin, this will moisturize unclear, blemished skin and make you see noticeable changes with daily use!
An astounding formulation, hitherto unknown but secretly thriving as the perfect oil for acne, blemish and dullness prone skin for over thousands of years....
A real hidden gem that was protected way too well within pages of history now stands revealed!

1. De-clog pores
2. Deep-cleanse skin
3. Reduce the appearance of dark spots, blackheads and whiteheads naturally
4. Flaunt a clean and clear appearance of face, neck and back
5. Light moisturization for the face
6. Enhance glow without exposing the skin to the threat of breakouts or a sticky/oily appearance
7. 1 Bottle lasts a long time
This oil contains no artificial binders, additives, heavy metals or any such thing that you wouldn't want on your skin!
INTENSE POWER l DIVINE NATURAL AROMA l VEGAN
SPECIALLY FORMULATED FOR ACNE-PRONE OR PROBLEM SKIN l 100% NATURAL
AUTHENTIC AYURVEDIC POWERHOUSE l GUARANTEED PERFORMANCE
Dry skin needing hydration.
Best used in the morning under sunscreen. To prevent staining of linen, avoid applying right before going to bed
Sesame Oil [Sesamum Indicum] - A light oil with the perfect linoleic-oleic acid balance
Blackboard Tree [Alstonia Scholaris] - Keeps skin looking clear and youthful
Malabar Nut [Adhatoda Vasica]- Powerful Pitta and Kapha pacifier for decongested, clear-looking skin
Neem [Azadirachta Indica] - Purification
Turmeric [Curcuma Longa] - Clarity and Glow
Indian Barberry [Berberis Aristata] - produces a brightening effect
Indian Gooseberry [Emblica Officinalis] - Infuses brightness
Chebulic Myrobalan [Terminalia Chebula]
Belleric Myrobalan [Terminalia Bellirica] - Triphala
Ginger [Zingiber Officinale] - Smooth skin, stimulation
Indian Long Pepper [Piper Longum]
Black Pepper [Piper Nigrum] - Stimulant, keeps skin pure, enhances glow
Conessi Tree [Holarrhena Antidysenterica] - Astringent properties
Indian Madder [Rubia Cordifolia] - deeply purifying, supports aging, promotes youthfulness and clarity of skin
Cutch Tree [Acacia Catechu] - keeps the skin look clean
Water Soluble Ash of Barley [Hordeum Vulgare] - Enhances penetration,
Himalayan Rock Salt - Hydration
Essential Oil of Neroli [Citrus Aurantium]
Essential Oil of Gardenia [Gardenia Jasminoides]
Essential Oil of Jasmine [Jasminum Grandiflorum].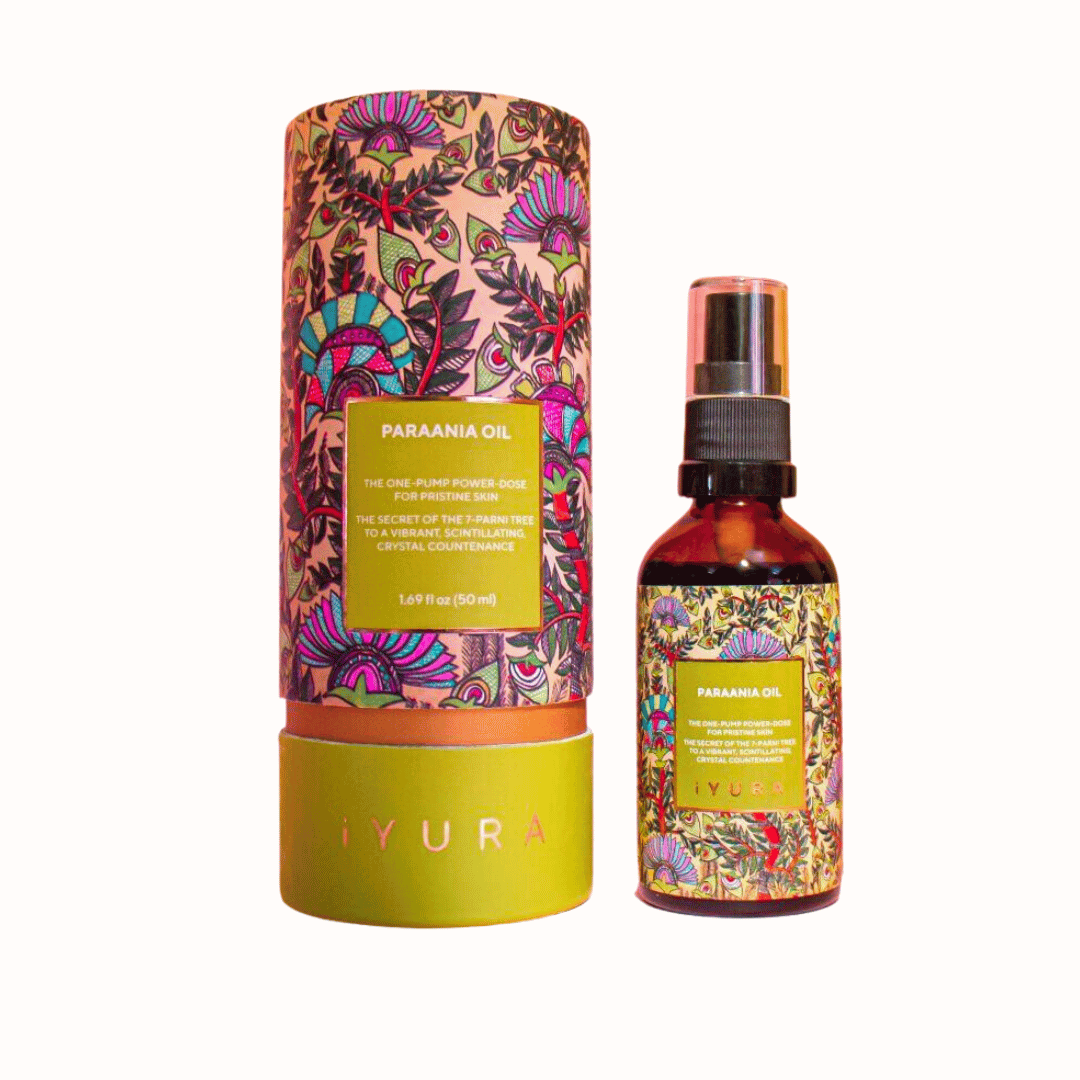 This product has no reviews yet.