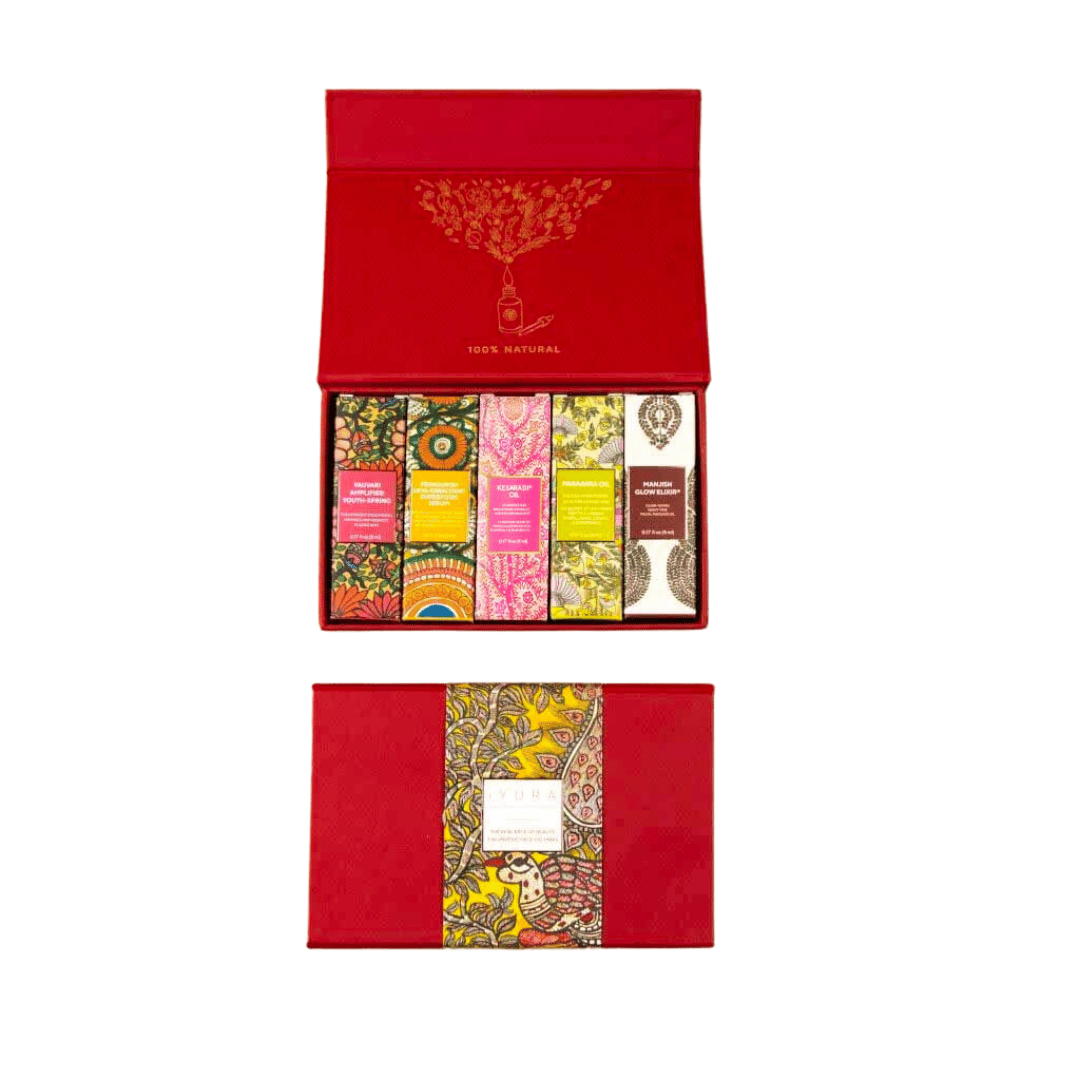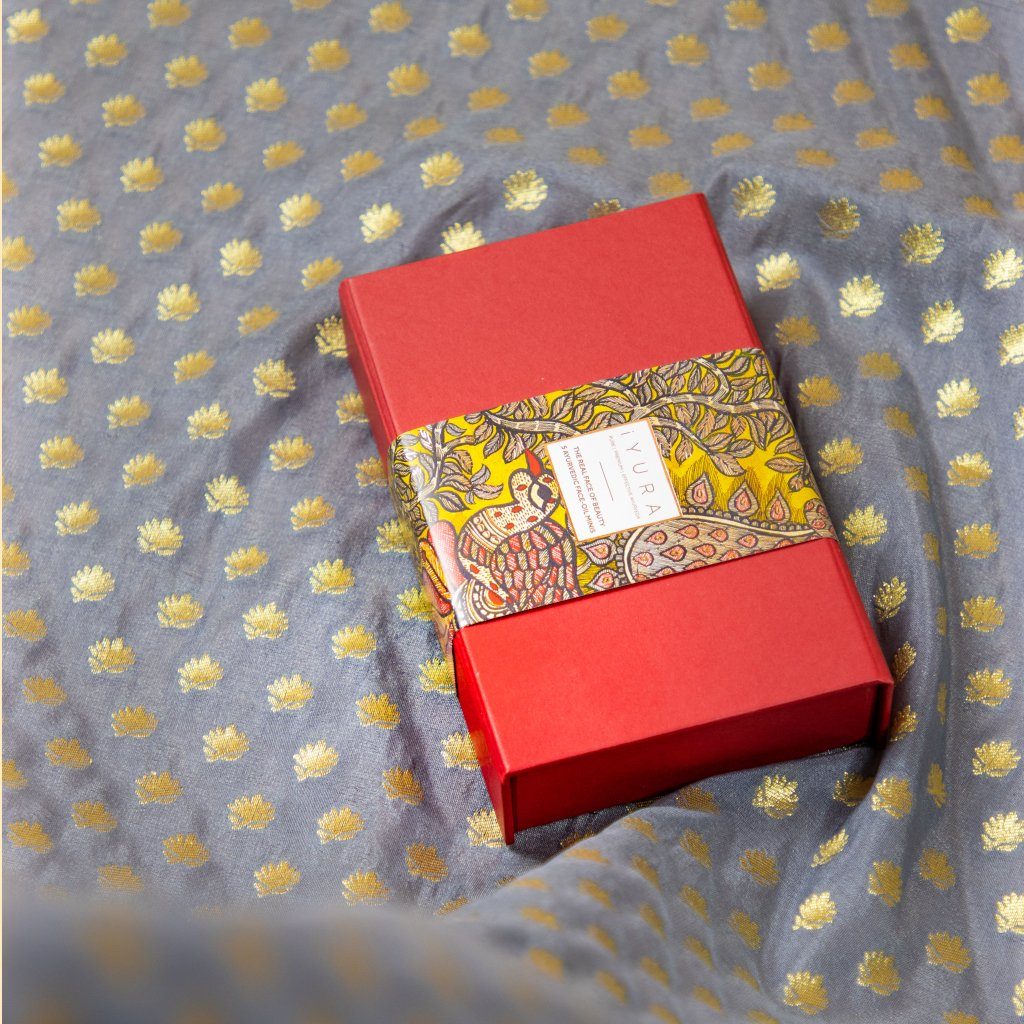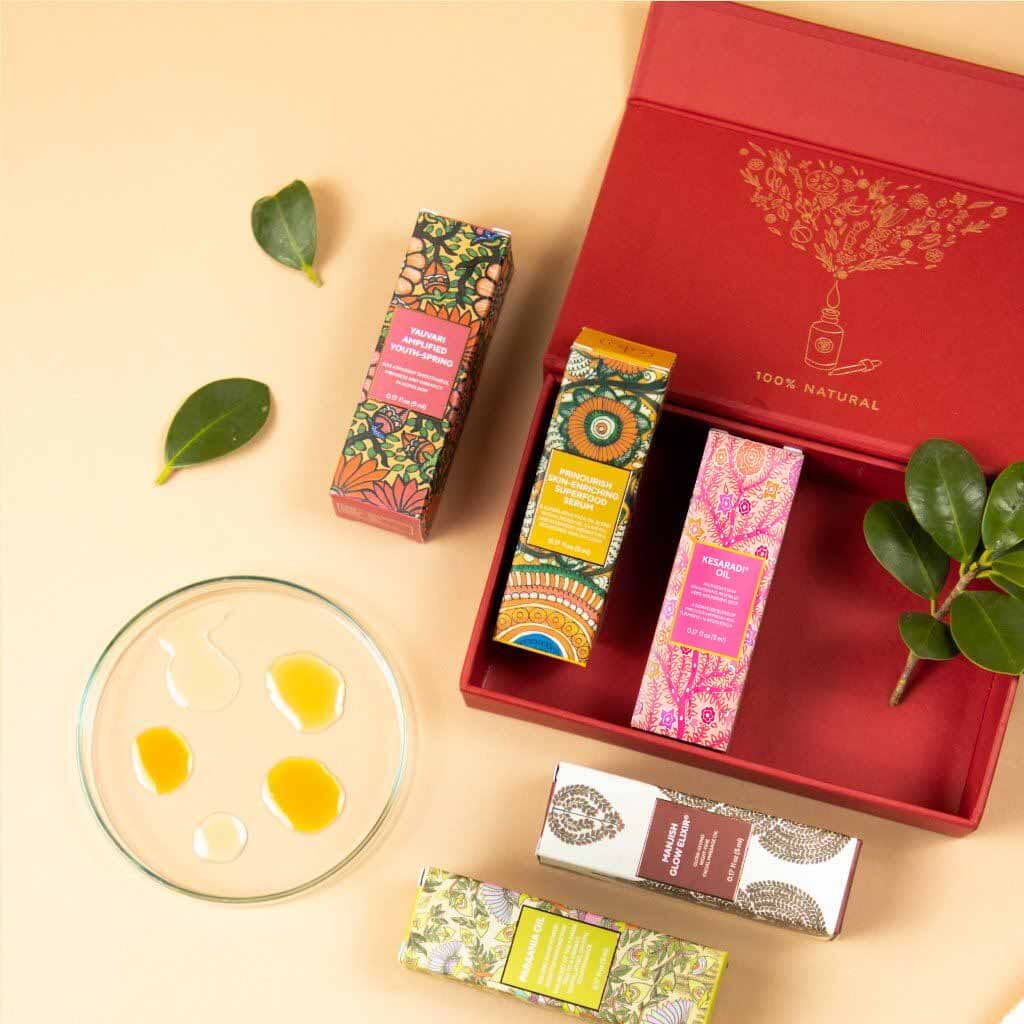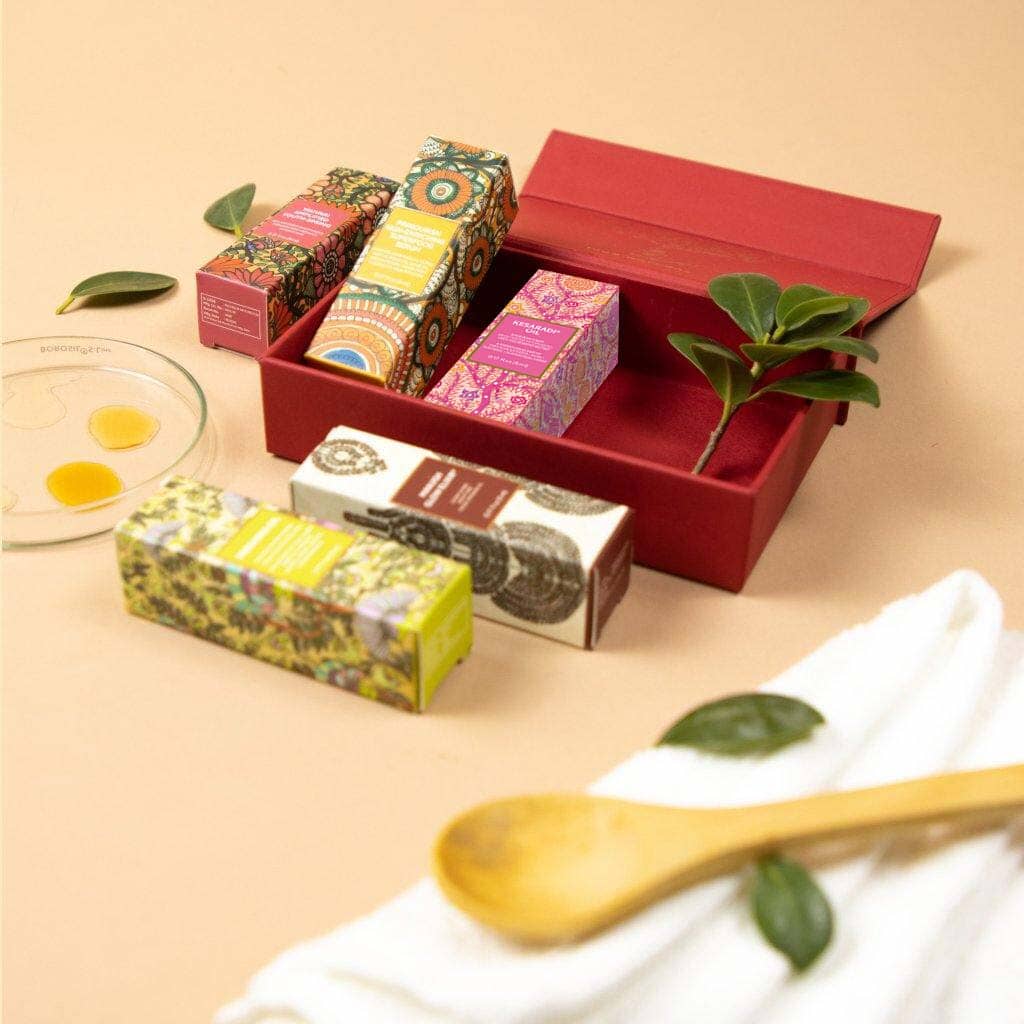 The Real Face of Beauty – 5 Ayurvedic Face Oil Minis | iYURA
Be it a Face Oil Beginner or a Skincare Expert looking to Mix, Layer and Blend their Facial Oils...
---
Introducing iYURA's new limited-edition quintet of bestselling facial oils in mini 'baby' sizes, to address all your skin's concerns. 
TRY 5 DIFFERENT iYURA FACE OILS FOR LESS THAN THE PRICE OF 1!
Want to start a new skincare routine or improve your existing one or want to stop using concealers and foundations? About time you get your hands on this super-cute bomb of a box and try not 1 or 2 but FIVE FACE OILS! 
Best moisturizer for: Mature skin, dull skin,

 blemished-skin,

 acne-prone skin, wrinkled skin, oily skin, dry skin, combination 

skin - 

you name it and you'll find an oil covering it! 

 

5 effective, bestselling formulation in one gorgeous box – at the price of less tha

n

 1 face oil bottle! 

1. 

Glow? Check. 

2. 

Reduced look of blemishes, acne and dark spots? Check. 

3. 

Less apparent wrinkles? Check. 

4. 

Firmed Skin? Check

 5. Soft, Moisturized, Juicy Skin

? Check, check, check!

 All of this for less than the price of 1 full oil!

 

Uplevel

 ANY skincare regimen! Add to your existing one or make a new one!

 

Convenient size to carry your face oil wherever you go - from 

on-flight-dryness to that evening party glow – you're all covered!

 

100% Natural, Potent Ayurvedic herbs and ingredients that thousands of women across America, Australia and Canada vouch for!

 
5 Luxury Face Oil Minis Samples for just $35 USD packaged beautifully!
With Savings of $183 USD.  
The Full-Size Bottles of these 5 Oils combined are worth $218 USD, and you get to try all of them for only $35 USD! 
This beautiful set contains 5 ml (0.17 fl oz) bottles of : 
1. iYURA Yauvari Amplified Youth Spring 
Ayurveda's Ultimate Fountain of Youth for Apparent Firmness, Smoothness and Vibrancy in Aging Skin with the power of Potent Black Gram along with exotic herbs like Vetiver Grass, Stone Apple, Mango, Black Plum and many more.  
Best Suited for Aging skin, Dry Skin and Combination Skin  
2. iYURA Paraania Oil 
Ayurveda's 1-Pump Vegan Daily Power-Potion to reduce the appearance of darker spots (darker than your overall skin-tone) and the look of blemishes to moisturize skin that's often disturbed with acne, blackheads and whiteheads with the essence of Dita Bark, Neem and multiple other strong Ayurvedic herbs.  
Best Suited for Acne-prone, Blemish-prone, Oily skin 
3. iYURA Manjish Glow Elixir  
A Glow-Giving, Even-Toning and Complexion-Restoring Face Massage Oil with the goodness of Indian Madder or Manjishtha, Lemon and Butter Tree Bark in every drop.  
Best Suited for Oily, Acne-Prone, Aging Skin 
4. iYURA Kesaradi Oil  
A signature blend of Saffron, Turmeric, Rose Oil and 16 other powerful Ayurvedic ingredients, Kesaradi is Ayurveda's Skin Brightening, Revitalizing, Uber-Nourishing Secret! 
Best suited for Dry, Combination and Dull Skin. 
5. iYURA Prinourish Skin Enriching Superfood Serum  
Ayurveda's Triple-4 – 3 – 2 Formula for Fully Cared-For Skin - the only moisturizer you'll need for balanced skin - Ever, with the powerful presence of 4 nutritional oils, 4 herbs, 4 spices, 3 fruits and 2 essential oils! 
Best Suited for Dry Skin types. Can also be used a pre-moisturizer for dryer skin types
5 mL/0.17 fl oz x 5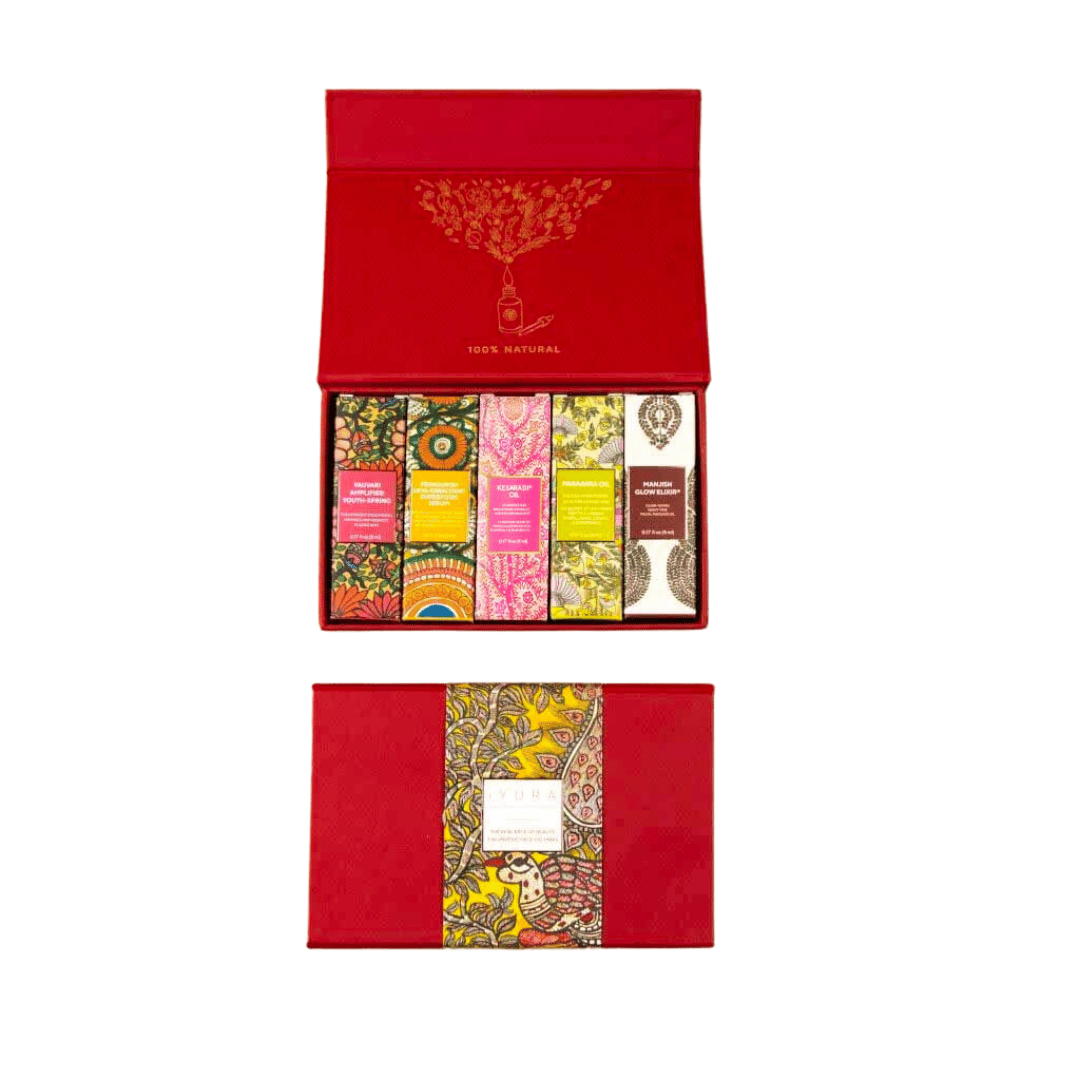 This product has no reviews yet.