Oakworks
Fitted Stool Cover - White | Oakworks
Sale price
Regular price
$37.50
Save $-37.50
/
---
Fitted Stool Cover - White | Oakworks
Color: Pure White
The Oakworks Stool Cover is designed to fit snugly over existing stools. If your stool's fabric is worn or cracked, this is the best way to make it safe for use. The waterproof, medical grade fabric is designed to withstand the harsh disinfectants the CDC recommends to kill the virus. No other fabric on the market has been tested and proven in the harsh disinfectant environments that SpaMed™ has been subjected to over the 15 years of its use in hospitals on Oakworks Medical products.

Non-returnable.
Tested and certified to ISO 10993 Biological Evaluation of Medical devices & passes testing for Cytotoxicity, Skin Irritation & Sensitization.
Fitted design fits either 14 in. round top stools or 17 in. round top stools
Waterproof and washable.
Make your stool look like new! Great for stools that have damaged upholstery and can't be properly disinfected, or stools not covered in medical grade fabric.
Protects your table top from exposure to oils and cremes!
Fitted design fits either 14 in. round top stools or 17 in. round top stools.
Oakworks Medical grade SpaMed™ fabric
Fitted design with elastic
Fabric can be disinfected with hospital grade disinfectants recommended by the CDC for killing COVID-19.
ISO 10993 Certified
Waterproof and washable
Guaranteed for one year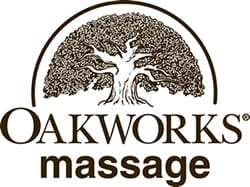 Oakworks is committed to providing safe, durable, comfortable, and ergonomic equipment to industries supporting the health and well-being of people all over the world.
With decades of design and manufacturing experience and a 91,000 square foot state of the art facility located in Southern Pennsylvania, Oakworks is known for design innovation, sophisticated engineering, and quick turnaround time. Every table built in the modern manufacturing facility comes with the reliability that today's healthcare professional demands. Offering a unique commitment to U.S. manufacturing and environmental wellness, Oakworks is setting the global standard for medical, spa, and massage tables and accessories.
Wholesale Inquiry